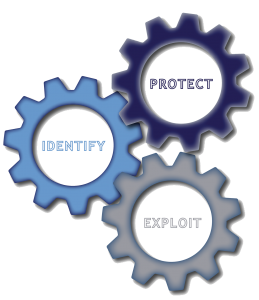 INTELLECTUAL PROPERTY REFERENCE PACK
This pack provides an overview of what intellectual property is so you can consider what steps need to be taken to protect the IP you have.
Is your Intellectual Property in your business protected? Get ready to use your IP to make passive income and secure your business for the future.
To Start, what is Intellectual Property?
Intellectual Property represents the property of your mind or intellect. It could be a new idea, a new tangible device, a piece of original creativity or an image. Intellectual Property is not one thing. Intellectual Property is a bundle of rights. Like a ray of white light diffused into a rainbow of colours.
Intellectual Property consists of:
Copyright
Patents
Registered Designs
Domain Names
Trade Marks
Confidential Information
Integrated Circuits and
Plant Breeders Rights
Intellectual Property is everywhere. Coca-Cola, Apple, Google, Etienne Lawyers, BMW. Intellectual Property surrounds us every day. Intellectual Property is part of today commercial reality.
Why is Intellectual Property Important
Intellectual Property is YOUR BRAND. You don't have a brand without some form of IP.
Intellectual Property is important to all businesses because you can licence it.
Tax Planning and compliance become an important issue with IP.
It is also important for areas of corporate and finance fundraising. Important for mergers and acquisitions – IP adds value to your business.
What You'll Learn in This Reference Pack
This reference pack explains the different types of Intellectual Property. How and when to use them, what you can and can't do with them.
The reference pack discusses using IP in your social media and other issues affecting it.
There are quick reference tables indicating how registration takes place. Each type of IP has different registration criteria.
By reading this reference pack, you will:
Learn the power of Intellectual Property.
Learn how to increase the value of your business with Intellectual Property.
Learn what Intellectual Property is best for your business.
FREQUENTLY ASKED QUESTIONS
Why do I need to fill out the information requested?
We will always keep your personal information safe. We ask for your information in exchange for a valuable resource in order to
improve your browsing experience by personalising the Etienne Lawyers site to your needs;

send information to you that we think may be of interest to you by email or other means;

send you marketing communications that we think might be of value to you.
You can read more about our privacy policy here.
Is this really free?
Absolutely. Just sharing some free knowledge that we hope you'll find useful. Keep us in mind next time you have legal questions!